JOIN US ON SUNDAYS
FOR SERVICE
We believe church is not about religion but about a relationship with Jesus. Come as you are, join us Sunday as you connect with community and God in an intimate and refreshing way. 
Location and Service Times
10:00 AM in the Youth Ministry Trailer.
More information here.
Adults (English Ministry) Service
12:00 PM in the Main Sanctuary.
View livestream here.
Children's ministry information below:
Upon arrival, you will have an opportunity to visit the Connect Team! Please arrive at the booth and the team members will be able to brief you with supplies.
English Ministry service generally follows this schedule, unless noted otherwise. All times noted below are in PST.
12:00 PM – Worship / Praise
12:30 – 1:30 PM – Sermon
1:30 – 5:00 PM – Courtyard Fellowship
Please follow the events page to be kept up to date!
If you're new and looking to get connected, click below:
Parking can be found in the following locations: the main parking lot at TLC and the overflow parking lot at Orangeview Junior High School.
Available parking is designated by the areas indicated by the site map below. The entry is a right turn if you are approaching from the Valley View (towards Knott Avenue) direction.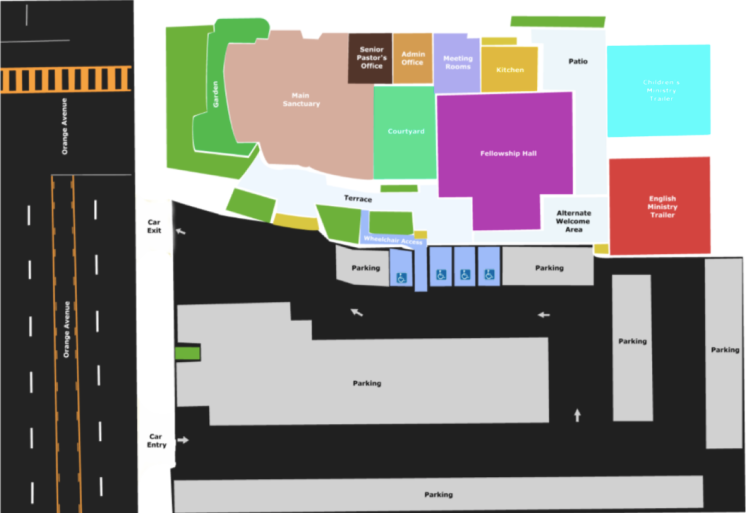 If there is no available parking in the main parking lot, then please park in the overflow parking lot that is available courtesy of Orangeview Junior High School. This location is closer to Knott Avenue and is adjacent to a crosswalk that leads to the TLC site.
Please note: this location is only available on Sundays from early morning to 2:00 PM (excluding special events). If you need to be at TLC past this time, please move your vehicle back to the main parking location. There is usually plenty of space in the main parking area past 2:00 PM on Sundays.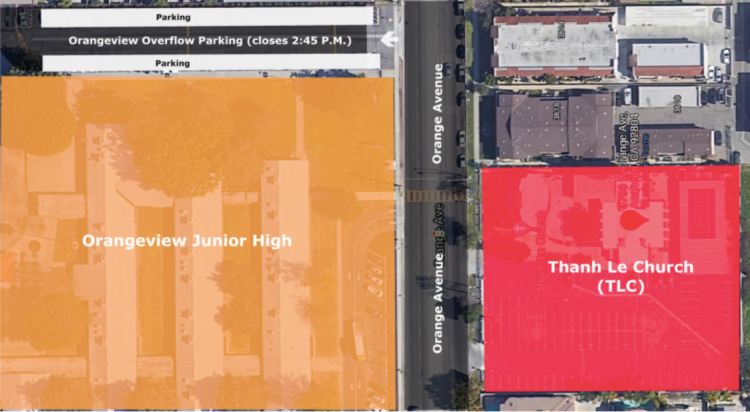 Most of what happens in TLC occurs outside of Sundays. Meeting only once a week on Sunday is an unreliable approach for consistent spiritual growth. We strongly encourage anyone who plans to be a part of our community long term to commit to meeting regularly outside of Sunday services. To get started, our main meetings that do not occur on Sundays are listed below. 
On the first Thursday of each month, TLC EM holds a Prayer Night, led by our Prayer Ministry. The content of these meetings varies depending on circumstances and season, but all TLC members and newcomers are encouraged to attend. For specific prayer requests that you may have, a form is provided in the link below.
For more info, contact jeremiah.dao@thanhlechurch.com
TLC EM has many small groups which meet on a regular basis for fellowship and spiritual growth. 
You can learn about each of our small groups in detail here.
There's always something going on at TLC. Events are a great way to serve and familiarize yourself with other members. 
View our events page here.